1 Pillow: $79
2 Pillows: $143 Save 10%!
1 Pillow: $99
2 Pillows: $179 Save 10%!
STANDARD/QUEEN IS DELAYED 1 WEEK
1 Pillow: $79
2 Pillows: $143 Save 10%!
1 Pillow: $99
2 Pillows: $179 Save 10%!
Try *one.* Love it! Or send it back.
Patented chamber design secures filling in place, maintaining the pillow's shape
Breathable mesh construction stays cool throughout the night
Premium down alternative blend provides stellar support and luxurious comfort
Hypoallergenic materials help prevent unwanted allergies
Canvas travel bag allows ambitious sleep on the go
View full details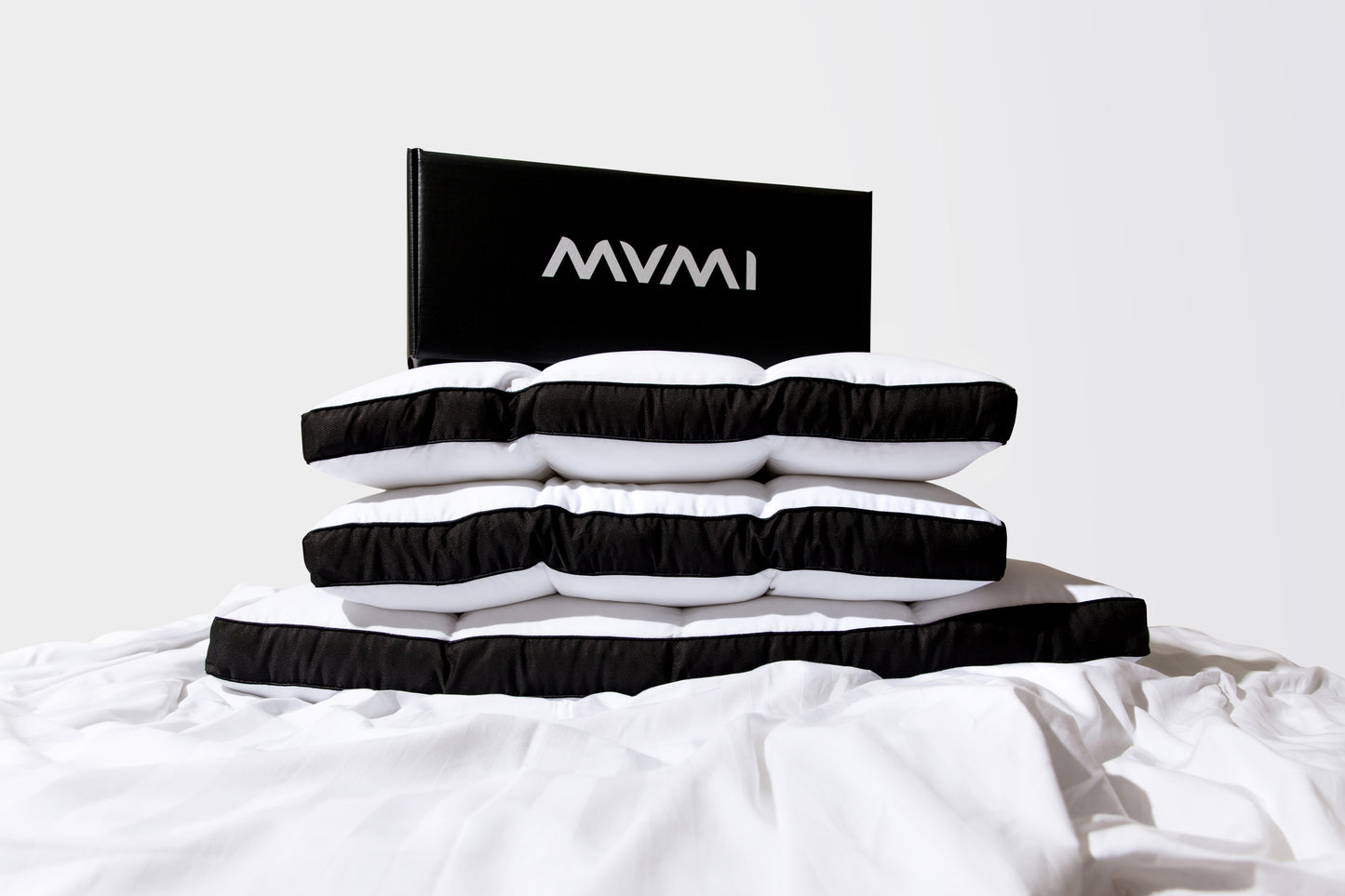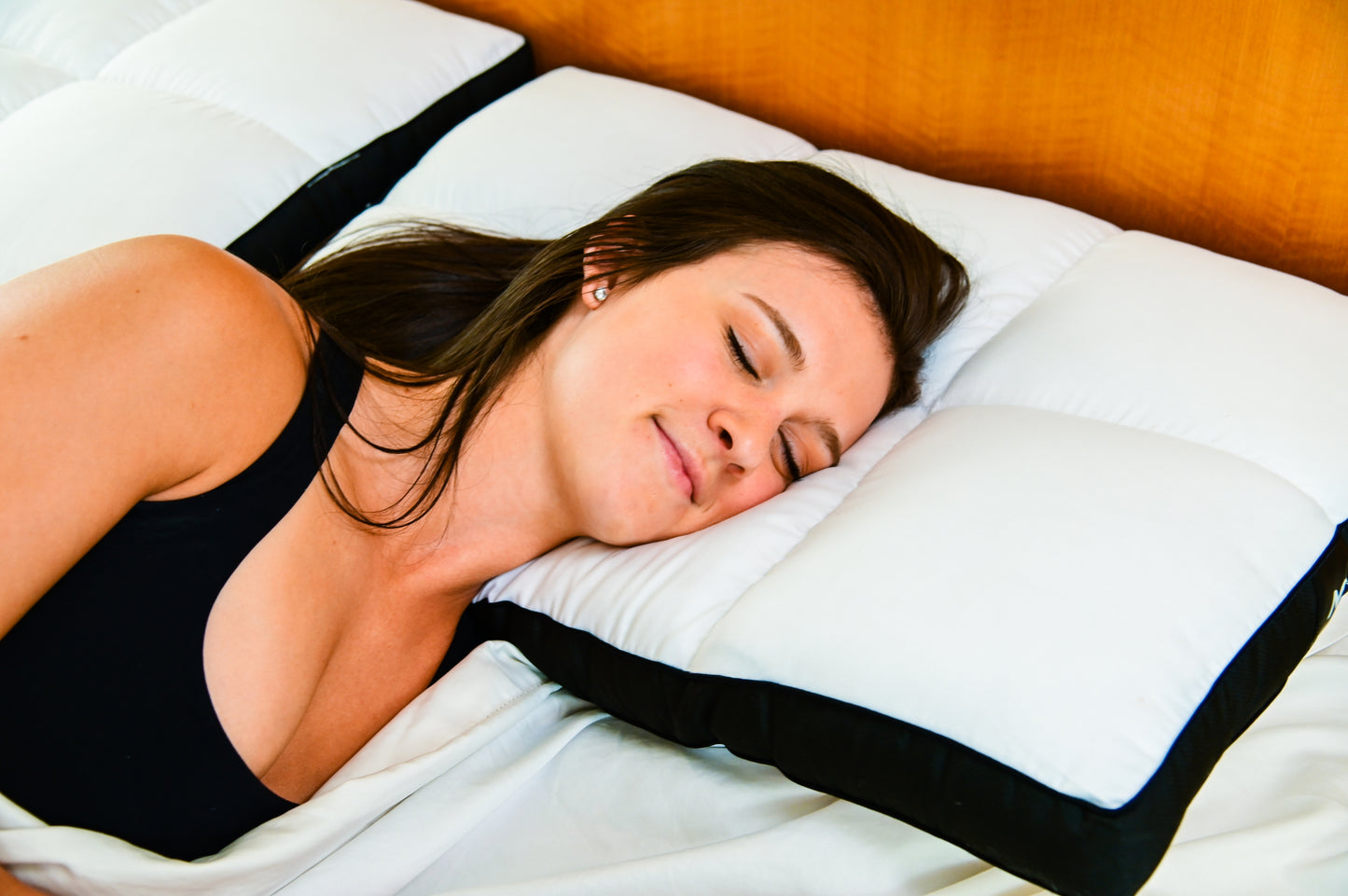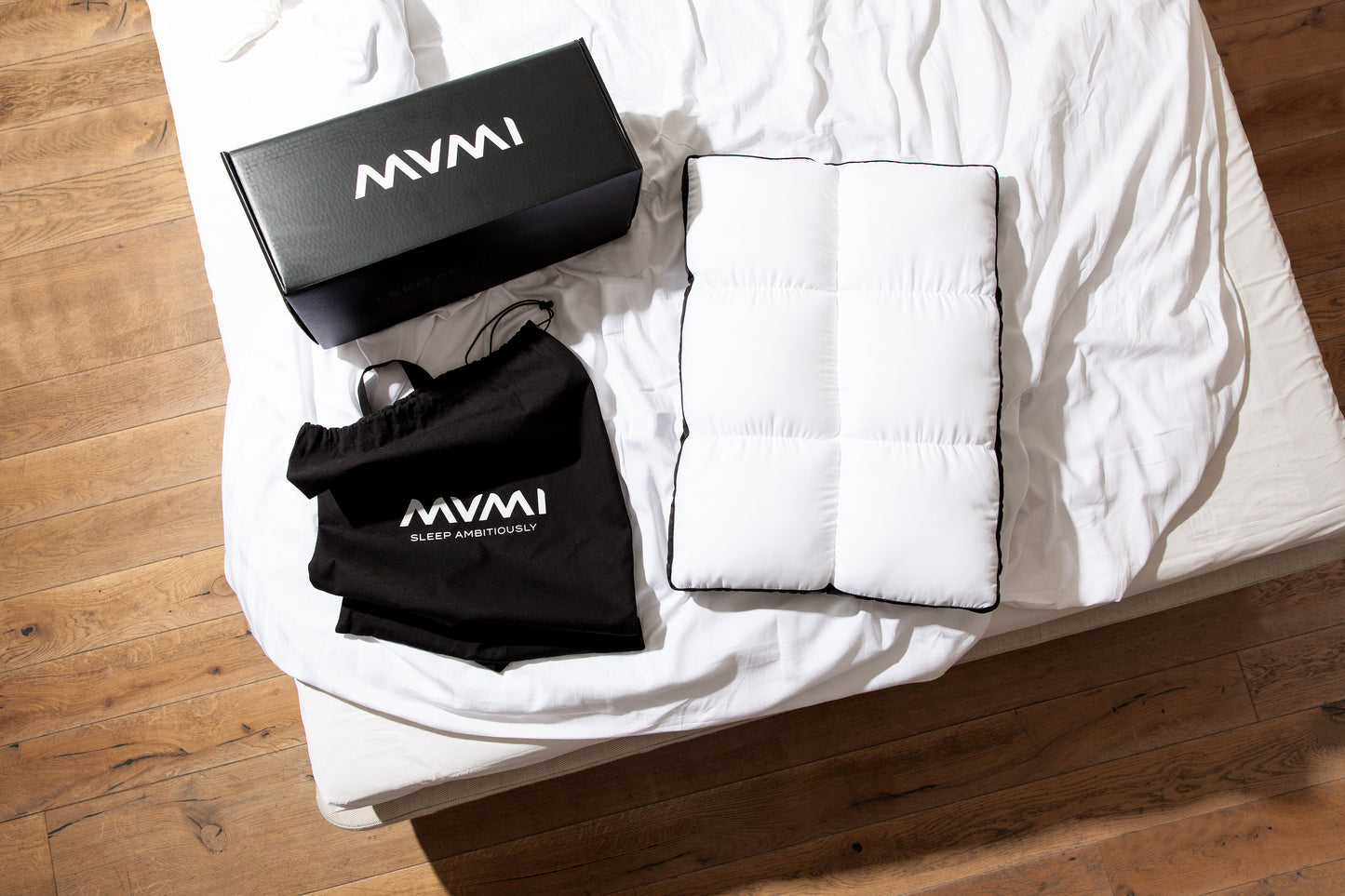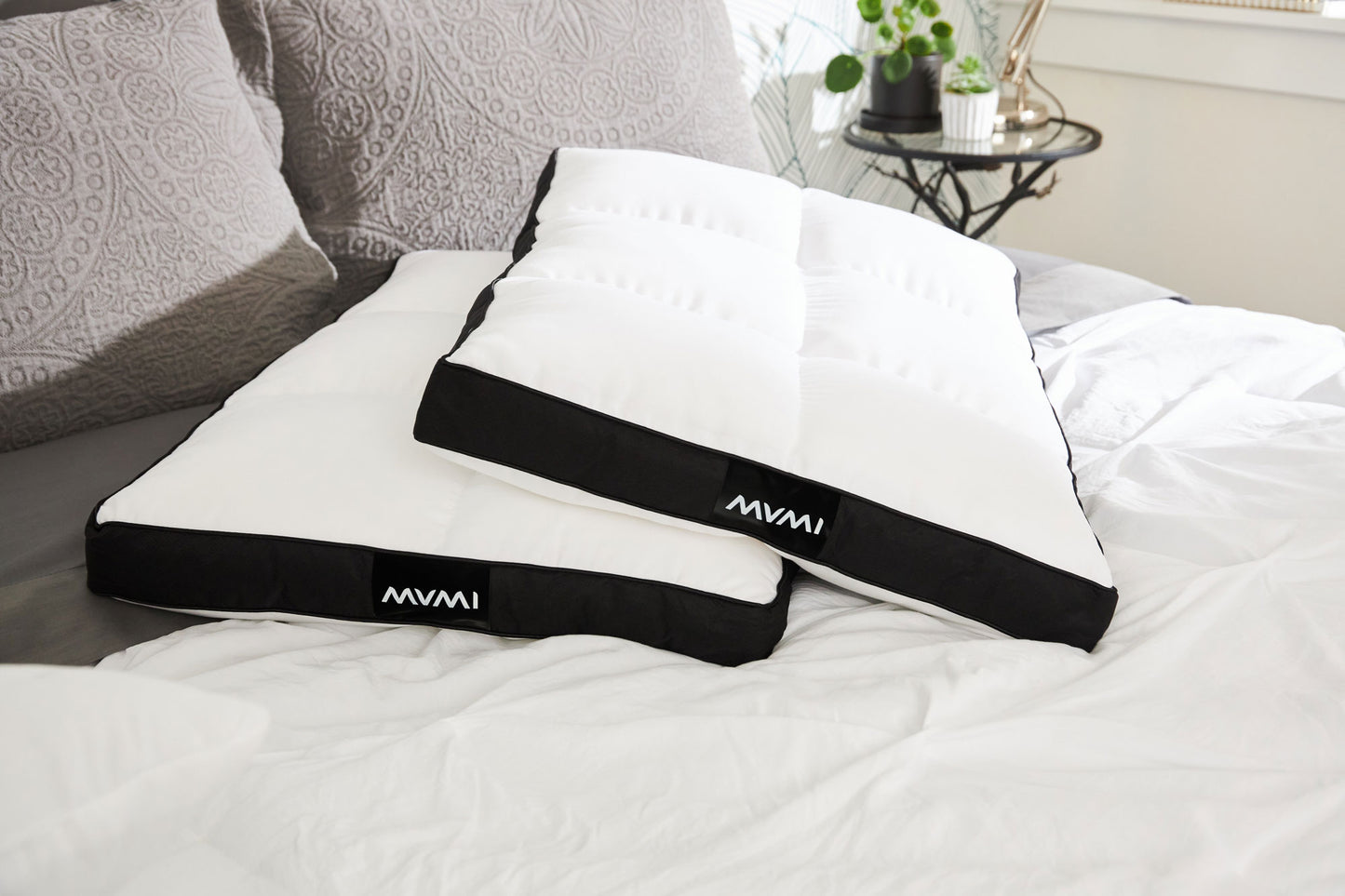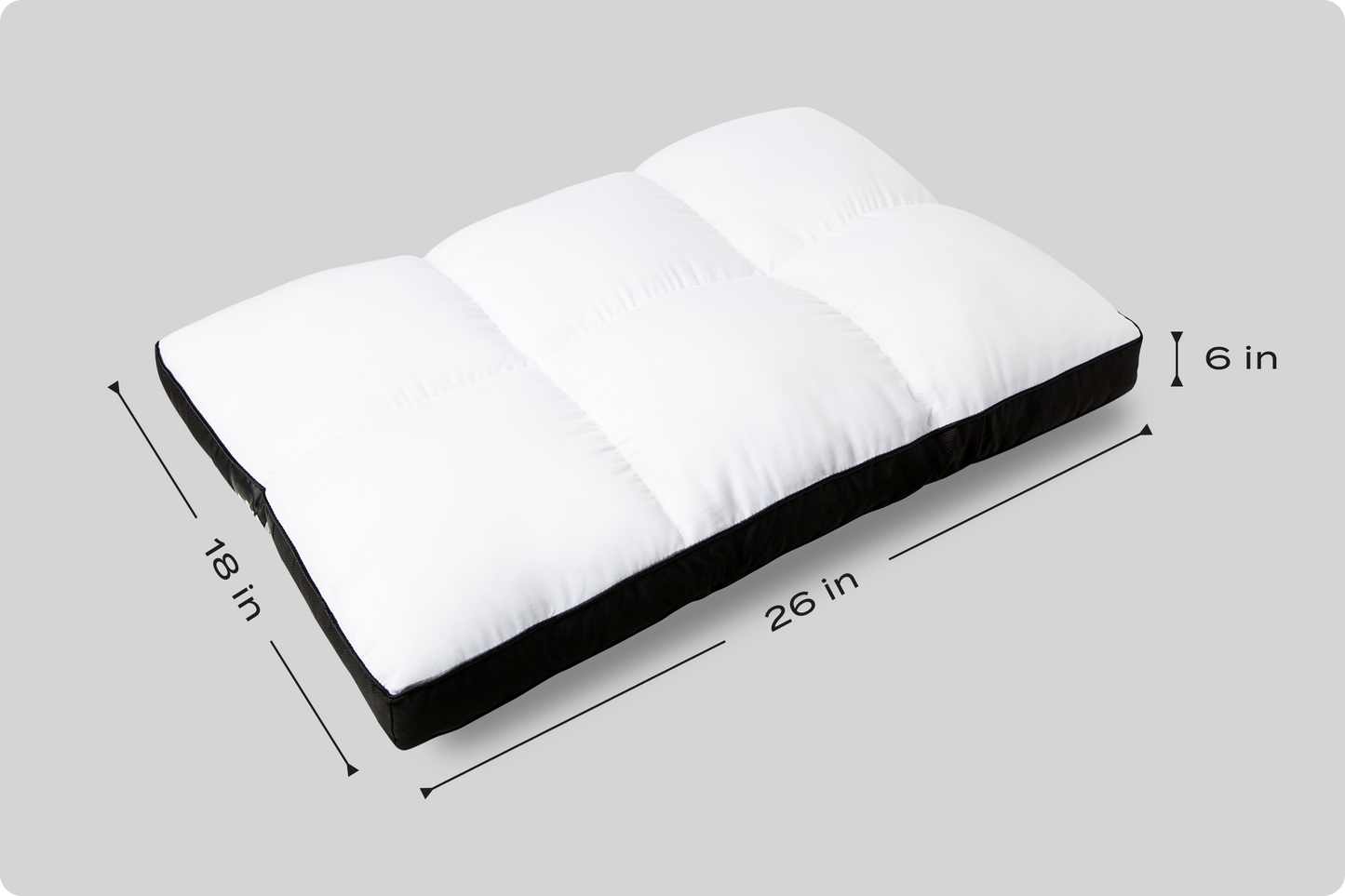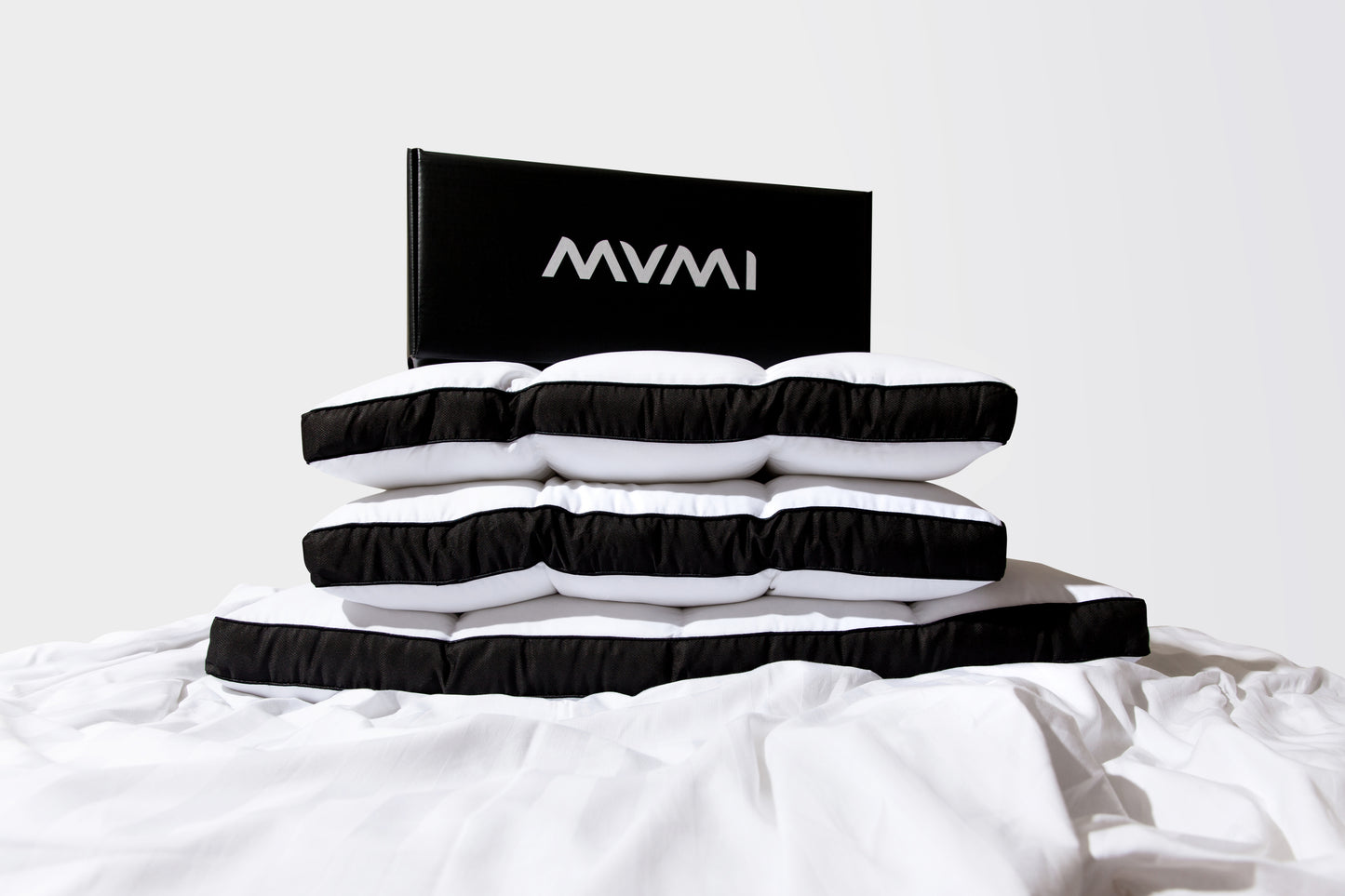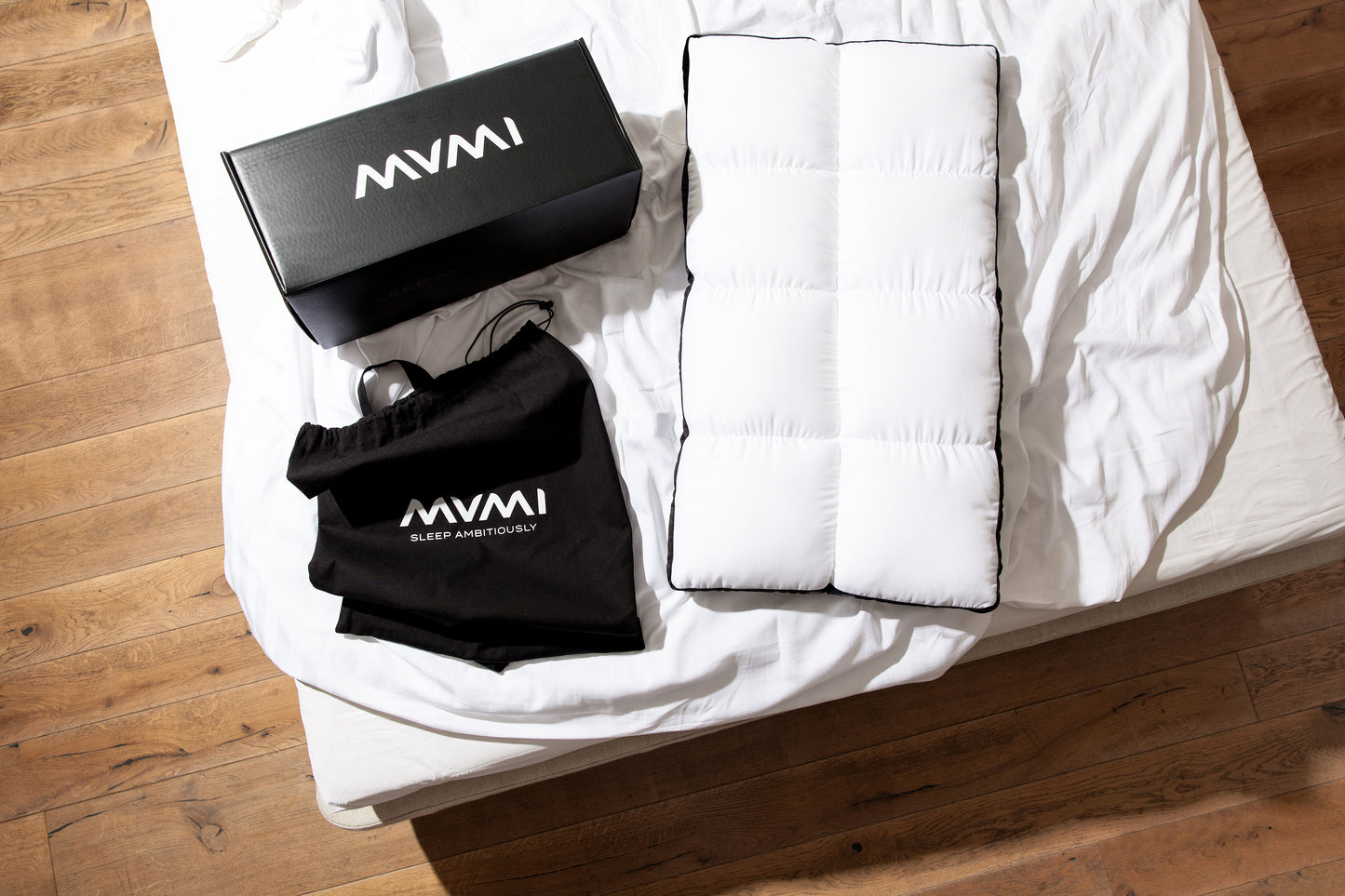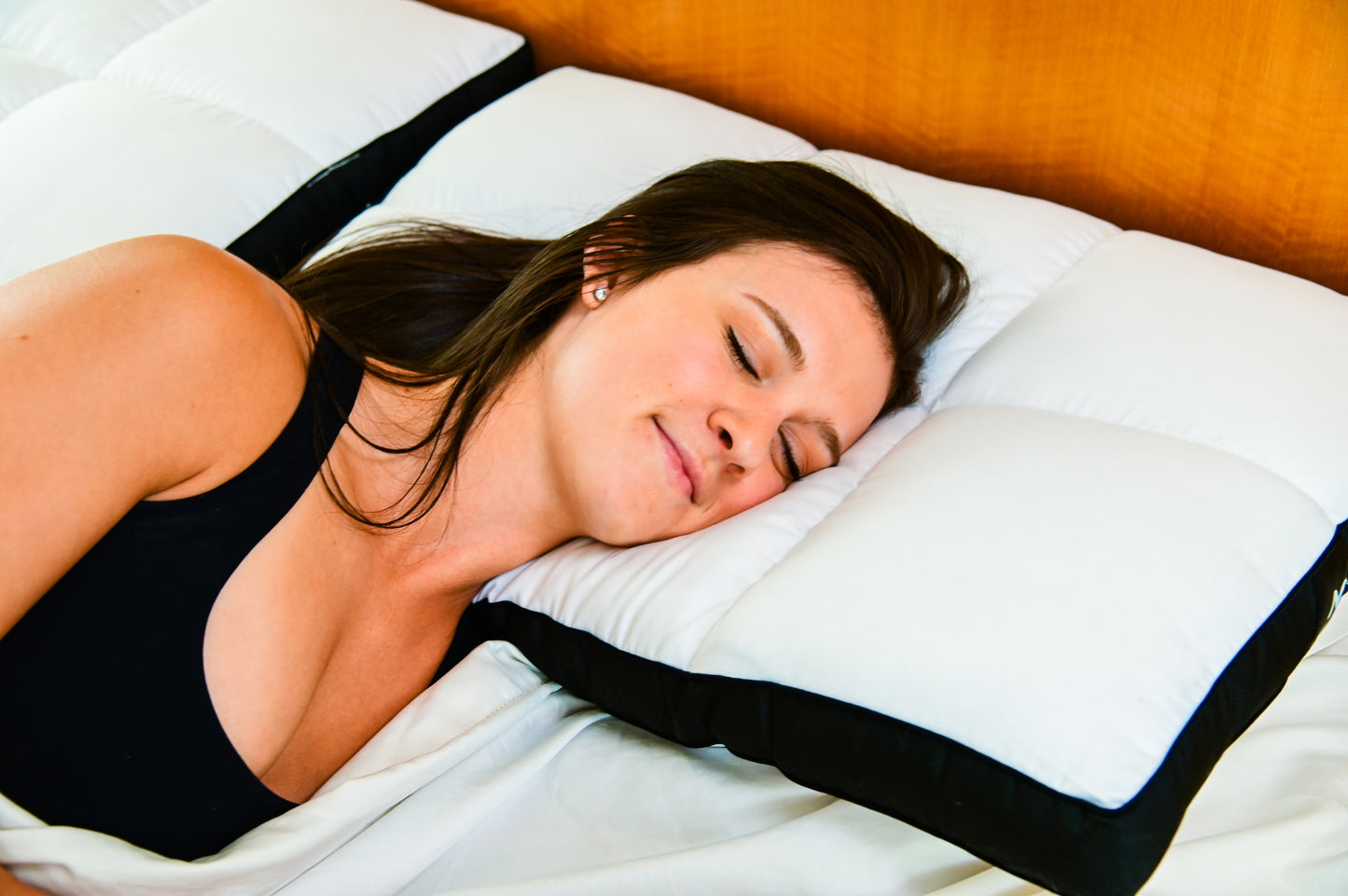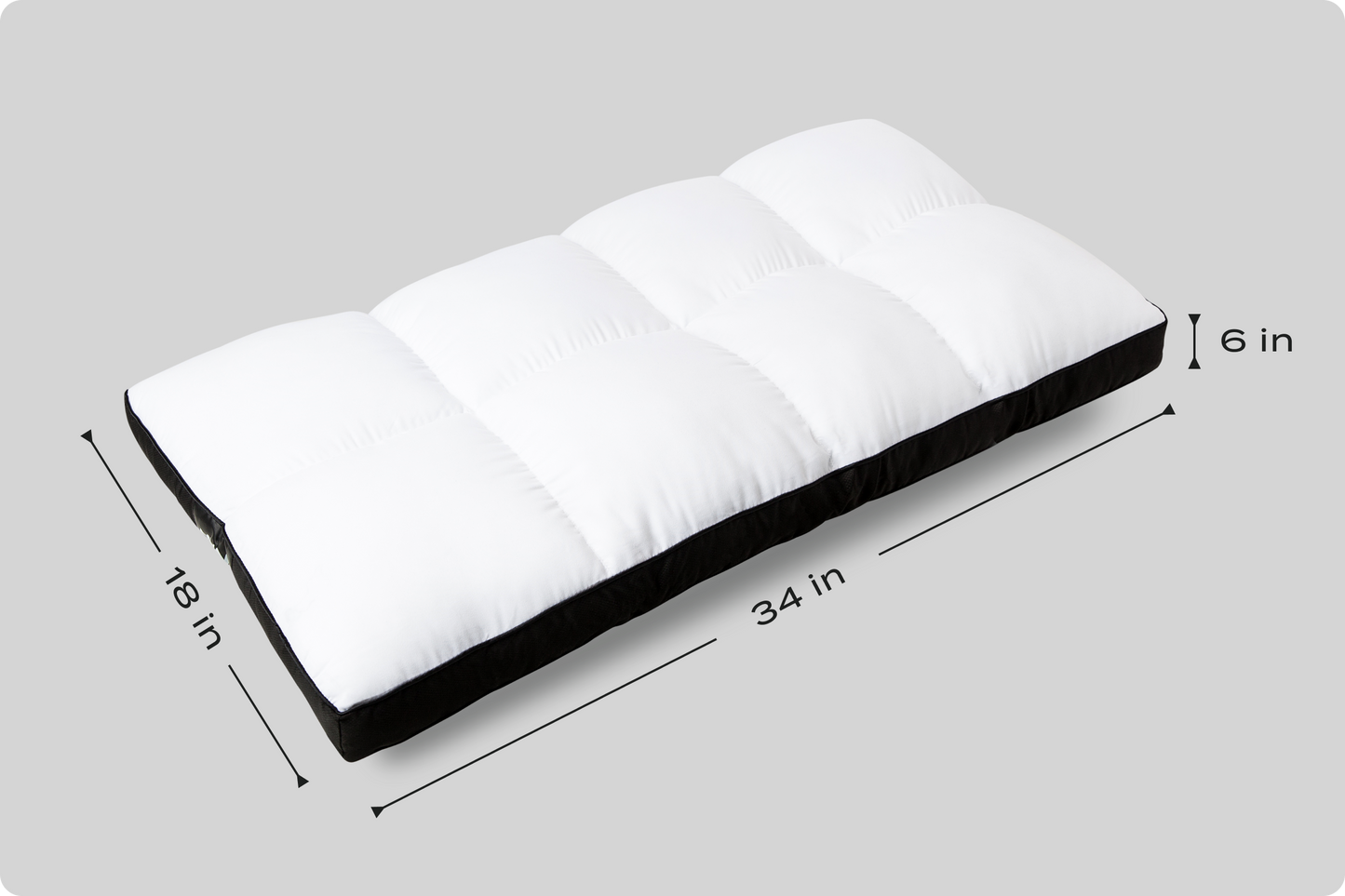 Top Performers Prioritize Sleep… and Love MVMI!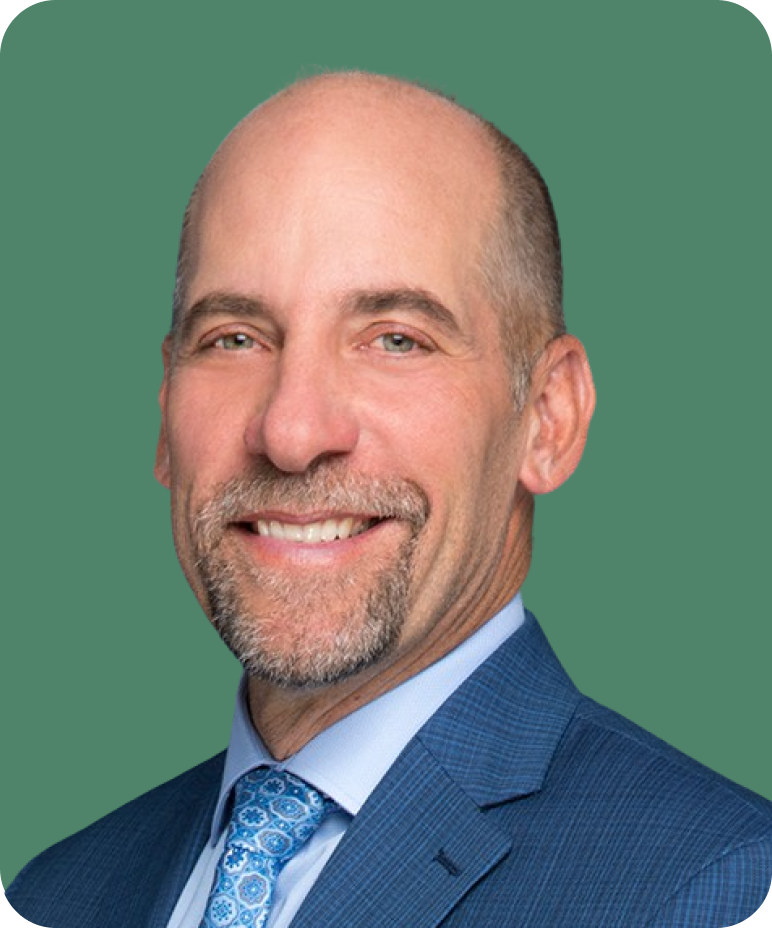 I always valued getting proper sleep. Traveling from hotel to hotel and getting a different pillow every time is a challenge — I realized how important a great pillow is. The MVMI pillow has helped me get better sleep!
John Smoltz
MLB All-Star, MVP and Cy Young Award Winner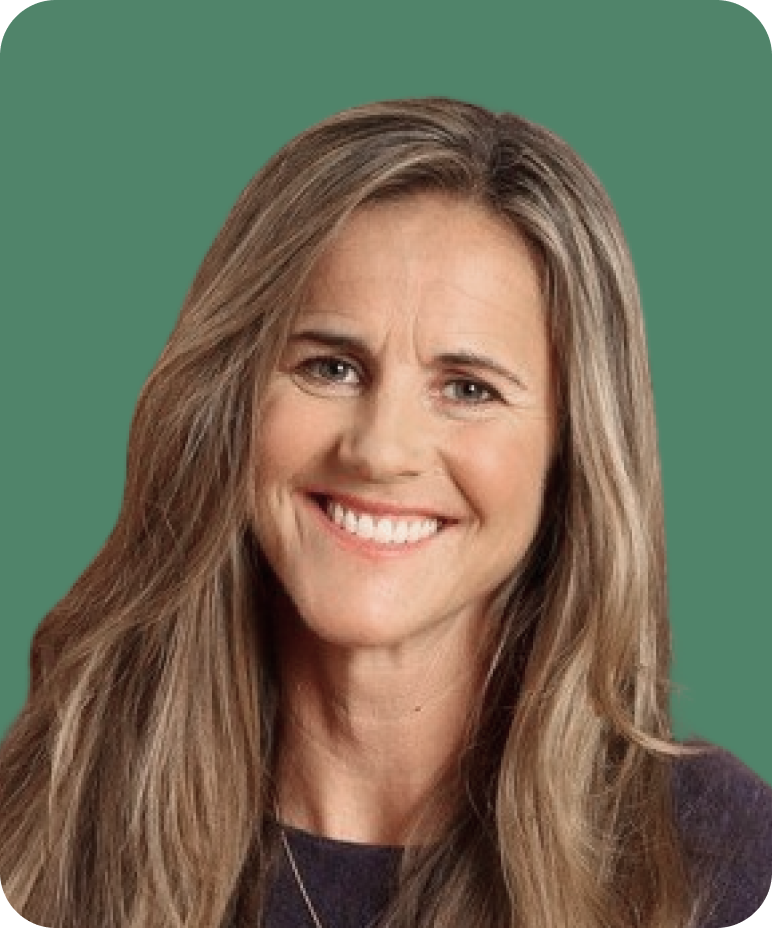 As an athlete and a mom, I need and value a quality night's sleep. MVMI's pillow is equal parts comfortable and luxurious which is a WIN.
Brandi Chastain
Olympic Gold-Medalist & FIFA World Cup Champion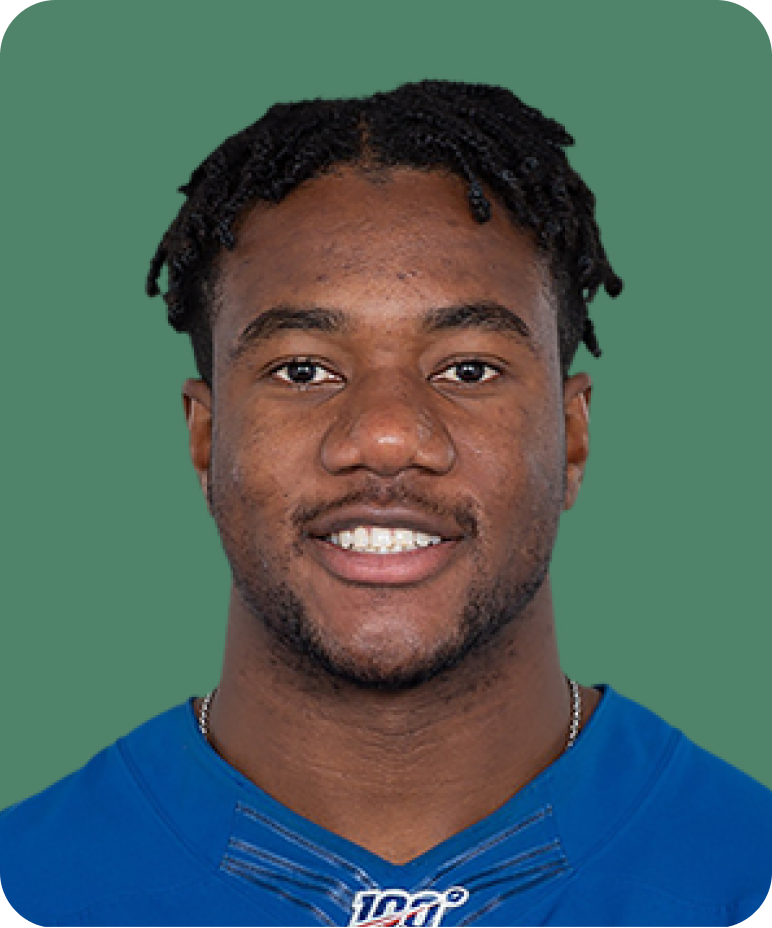 MVMI brings style and comfort together with class! This is a must-have pillow.
Bobby Okereke
NFL Linebacker for the New York Giants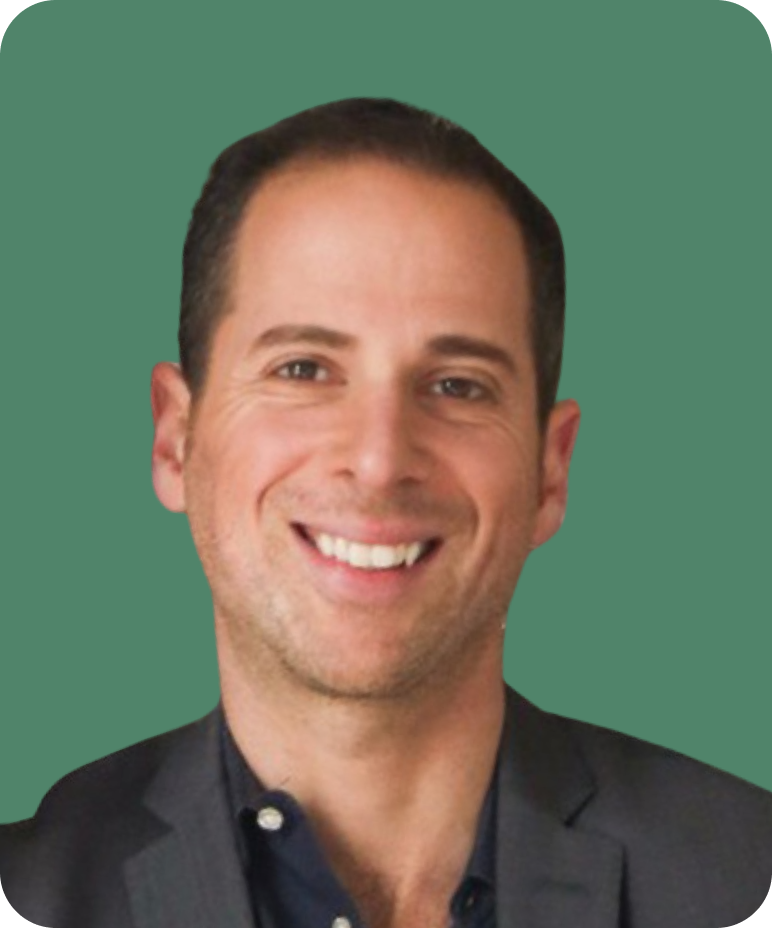 To write well, I need to sleep well. I feel so much more rested now. So long old pillow, hello MVMI 6-Chamber Pillow!
Ori Brafman
New York Times Best Selling Author
The MVMI Difference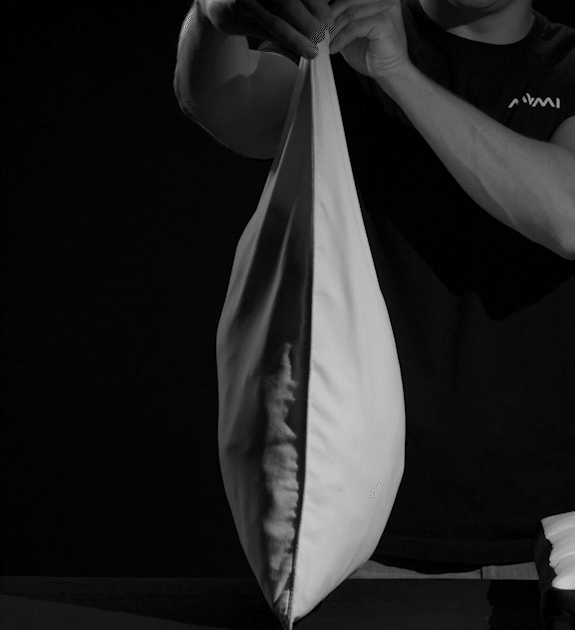 Single-Chamber Pillow
Filling shifts away from the head and neck. The pillow becomes flat and lopsided, preventing proper support.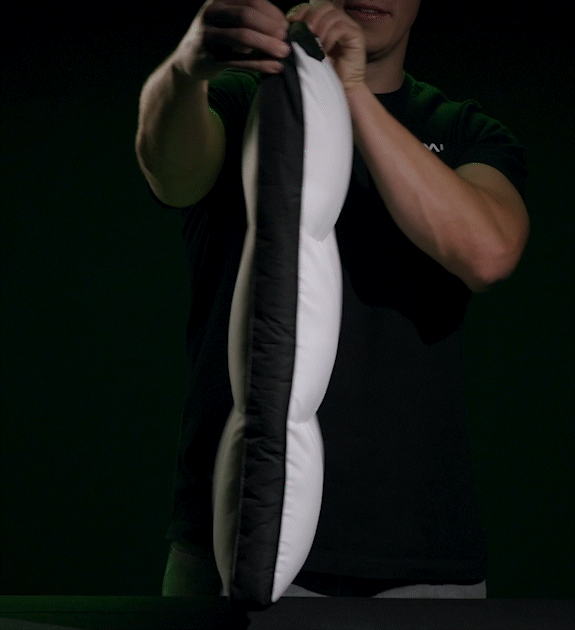 6-Chamber Pillow
Filling is secured within six individual chambers and never shifts, providing comfort and support throughout the night.
Better Pillow. Better Sleep. Better You.
Patented Chamber Design
MVMI's patented chamber design ensures consistent filling distribution and shape. This translates to maximum comfort and support throughout the night, every night.
Breathable Mesh
MVMI's chamber walls are made of soft, stretchy, breathable fabric that maximizes airflow and keeps you cool - though it's so light and supple, you'll never know it's there.
Featherweight Fill
Through extensive testing and research, we developed a proprietary down alternative blend that delivers both stellar support and velvety, cloud-like comfort.
We're Certified!
Tested & Certified Quality
Environmentally friendly
Assured quality and craftsmanship
No harmful chemicals or substances
Let customers speak for us
Frequently Asked Questions
Will I be able to feel the different chambers?

No! Our breathable mesh walls are undetectable. The mesh is soft to the touch, yet strong enough to maintain a consistent filling distribution in each chamber. With free shipping and free returns, why not try it?
How do I know if the MVMI Pillow is right for my sleeping style?

We have carefully designed the MVMI Pillow to satisfy all sleeping styles – side-sleepers, back-sleepers, stomach-sleepers and combo-sleepers. Our unique design provides consistent comfort and support wherever your head rests and in any position.
Is the MVMI Pillow safe for me and the environment?

Yes! The MVMI Pillow is certified Standard 100 by OEKO-TEX which means it has passed each test for chemicals and substances that are harmful to humans and the environment.
I'm allergic to down, can I use the MVMI Pillow?

Yes! The MVMI Pillow is hypoallergenic. We do not use any animal feathers or down in our blend. Our proprietary filling blend provides amazing comfort and support without harming any animals.
What are the dimensions of each size MVMI Pillow?

The Standard/Queen MVMI Pillow is:


Length: 26 inches
Width: 18 inches
Height: 6 inches (2 inch gusset)

The King MVMI Pillow is:


Length: 34 inches
Width: 18 inches
Height: 6 inches (2 inch gusset)
Do I need a special pillowcase for the MVMI Pillow?

No! The standard/queen MVMI Pillow fits perfectly in any standard, queen or king size pillowcase. The king size MVMI Pillow fits in any king size pillowcase.
How long does it take for the MVMI Pillow to fluff out after unboxing?

After unboxing, thoroughly fluff your MVMI Pillow from all angles for 60 seconds. Then, place the pillow and a dryer sheet into the dryer for 20 minutes on a low-heat tumble. It is now ready to use but keep in mind the filling may take up to 48 hours (2 sleeps!) to fully expand.
How do I clean the MVMI Pillow?

When necessary, we recommend machine washing the pillow on a cold, gentle cycle. Use a front-loading washing machine for best results. Wash the pillow by itself or with other whites. Make sure to run the spin cycle twice for maximum water extraction. Tumble dry on low- or no-heat with clean tennis balls. Remove promptly and fluff after drying. Do not iron or use bleach.
What other sleep products are you developing?

We are currently developing our sheet set and plan to expand into sleepwear soon! Join our Monthly Newsletter at the bottom of this page to be notified of our exclusive, limited launches.
How do I return or exchange?

*Please note - only one pillow can be returned per order. So, if you are unsure that the MVMI Pillow is a fit, be sure to only purchase one pillow to begin with.

It's free and easy! If there is an issue with your MVMI Pillow or you decide that you don't absolutely love it before 60 days from purchase, please send an email to service@mvmisleep.com to request your free return shipping label. Please include your name, order number and a description of the problem or reason for your return. Please allow 3 business days for us to respond.

However, we do recommend using your pillow for at least 30 days before deciding. Our bodies go through an adjustment period when exposed to something new. You might be used to sleeping on an old, low-quality pillow so the MVMI Pillow could take a little getting-used-to.